Francis Ngannou revealed extensive details involving his knee injury, his UFC contract dispute, and a potential impending legal battle with the UFC on the MMA Hour with Ariel Helwani.

UFC heavyweight champion Francis Ngannou was on Ariel Helwani's MMA Hour on Monday, fresh off of his awe-inspiring performance at UFC 270 on Saturday night. Ngannou retained his UFC championship against former trainer partner Ciryl Gane by way of a five-round decision.

Ngannou dropped the first two rounds of the fight, only to turn it around in the third with a massive takedown, which set the tone for the remainder of the bout. Ngannou would pull away with a unanimous decision victory, to retain the defend the UFC heavyweight championship for the first time in his career.
After the bout, Ngannou revealed to Joe Rogan that he suffered a severe knee injury in training. During Ngannou's UFC 270 post-fight media availability, the champion revealed that the injury was a torn MCL and ACL. On Monday's MMA Hour, Ngannou revealed the nature of that injury and how it occurred.

"Exactly twenty-five days before the fight," Ngannou said. "We were sparring, the guy grabbed my leg and then my toes got stuck on the canvas. I was turning so my knee twisted and I heard a crack."

Ngannou told Helwani that after immediately going to the doctor to get checked, an MRI revealed extensive damage to his MCL, MPFL, and ACL.

"So they were just waiting for me to call out the fight," Ngannou said. "Obviously, I didn't know if I would fight, but I didn't want to cut out the fight, and then find myself two weeks after feeling a little better."

Ngannou told Ariel Helawni that he was in a lot of pain when the injury first occurred and was bound to wear a brace up until a week before the fight. Ngannou told the MMA Hour he was already in good shape when the injury occurred, and managed to stay at the 265lbs weight limit without the injury affecting his weight cut. When asked how close he was to pull out of the fight, Ngannou told Ariel Helwani, there was simply too much on the line.

"I think the only reason why I didn't cancel this fight was because there was just too much into it," Ngannou said. "I was coming here to make a statement. By that time, your ego, your pride speaks a little bit, like I'm not giving any chance to anybody to say anything. That's the same fire that carries me into a fight."


Ngannou made reference to the fact that he has faced adversity throughout his entire life, both in the cage and outside of it.

"Listen, at the end of the day, this is not the first time that I have to deal with odds." Ngannou said "I had to face odds, I had to challenge all those styles. So I knew that I had the ability to go out there and do something. I knew it wasn't going to be easy at all, but that it was possible."

Ngannou said he felt issues with his knee in the lead-up to fight week and saw a specialist on the Tuesday before UFC 270. Ngannou told the MMA Hour that he was given medical advice not to compete at UFC 270.

"The last time I saw a doctor out here in [Los Angeles] on Tuesday, and he recommended to me one more time not to fight, he also said at the end of the day it's my call," Ngannou said. "You know anything can happen, but nothing might not happen as well. So I'm like I'm getting this fight, because it's been a lot of things going into this fight, and I didn't want one excuse for anybody to take this stuff anywhere longer. I was just tired of it and I wanted to shut this down, and I was able to do everything."

Ngannou admitted to Ariel Helwani that the choice to fight was likely not a wise one, but that he was at peace with his decision.

"I knew that losing was an option," Ngannou said, "At the end of the day, I was in peace with myself, with what I have done, with the world and all that I'm putting in. I'm gonna give my best, and if at the end of the day the best doesn't provide me the result, I'm okay with that."
Francis Ngannou: 'I saw me when I fought Stipe the first time."
Leading up to fight week, the matter of Ngannou's leg injury was relatively unknown. However, as the hours ticked closer to the fight time, rumors started to swirl about Ngannou's possible injury. When asked, Ngannou told Ariel Helwani that he felt his opponent likely knew about his injured knee before the fight.

"I know he knew by that time," Ngannou said. "He knew, for sure yeah, of course. I don't know who told him, but I know he knew."

The narrative of a potential knee injury began to surface on the broadcast when Ngannou was shown walking to the octagon wearing compression knee pads. UFC commentator Joe Rogan made reference to the potential injury during introductions, but the narrative was somewhat quelled as the fight went on.

Ngannou would drop the first two rounds of the bout to Gane in a clear fashion. However, Ngannou managed to turn the tide of the fight in the middle of the third round. The UFC champion told Ariel Helwani that he knew he had broken Gane, when he looked at him in between rounds headed to the fourth round.
"By the end of the third round, I looked at him and I saw me when I fought Stipe [Miocic] the first time," Ngannou said. "I'm like, this guy is done. He wasn't even able to listen to his coach. I was listening to his corner talk to him and he wasn't reacting. I'm like he's done, that this is exactly me when I fought Stipe the first time. That's the moment that I knew that I won the fight."
Ngannou would pick up the nod on the judge's scorecards on the final three rounds of the bout. When asked, Ngannou credits his conditioning and his training for his success, stating that it was the best he ever felt in the octagon.
"It's the first time that I was able to really understand what my corner was saying," Ngannou said. "Even during the fight, I was able to listen to both corners and I was very lucid about everything. Eric [Nicksick] was there, everybody was talking. So, and all that made me feel like, okay we are doing this right."
"Even going to the fifth round they say okay, it's two-two, now go take the win," Ngannou said. "I mean, by that time, I wasn't thinking about my knee anymore. I was like, let's get this done."
When asked if he felt the win over Ciryl Gane at UFC 270 was the biggest of his career, Ngannou expressed that with all the added pressure and narratives, it most definitely felt like the biggest and most satisfying
Francis Ngannou: 'Freedom doesn't work with money'
With the win at UFC 270, Francis Ngannou now enters a class of his own. For the first time in UFC history, a fighter is reaching the end of their contract, still at the peak of their career, all while holding the biggest prize in the promotion, the world heavyweight championship.

According to Ngannou, the UFC made him a multi-million dollar contract offer prior to UFC 270 but was subsequently turned down by the champion. When asked, Ngannou said the contract dispute with the UFC is about more than just money.

"The money was tempting, it was good, but you know, it is not just about money," Ngannou said. "By this moment, I think it's a lot more than only that because the money cannot change this situation."

Ngannou had previously aired his grievances about the UFC after defeating Jairzinho Rozenstruik at UFC 249. Ngannou felt that he was deserving of a title shot, but was forced to sit out and wait for Stipe Miocic and Daniel Cormier to complete their trilogy bout at UFC 251.

When asked, Ngannou estimated that he has left upwards of seven million dollars on the table, waiting out his current contract.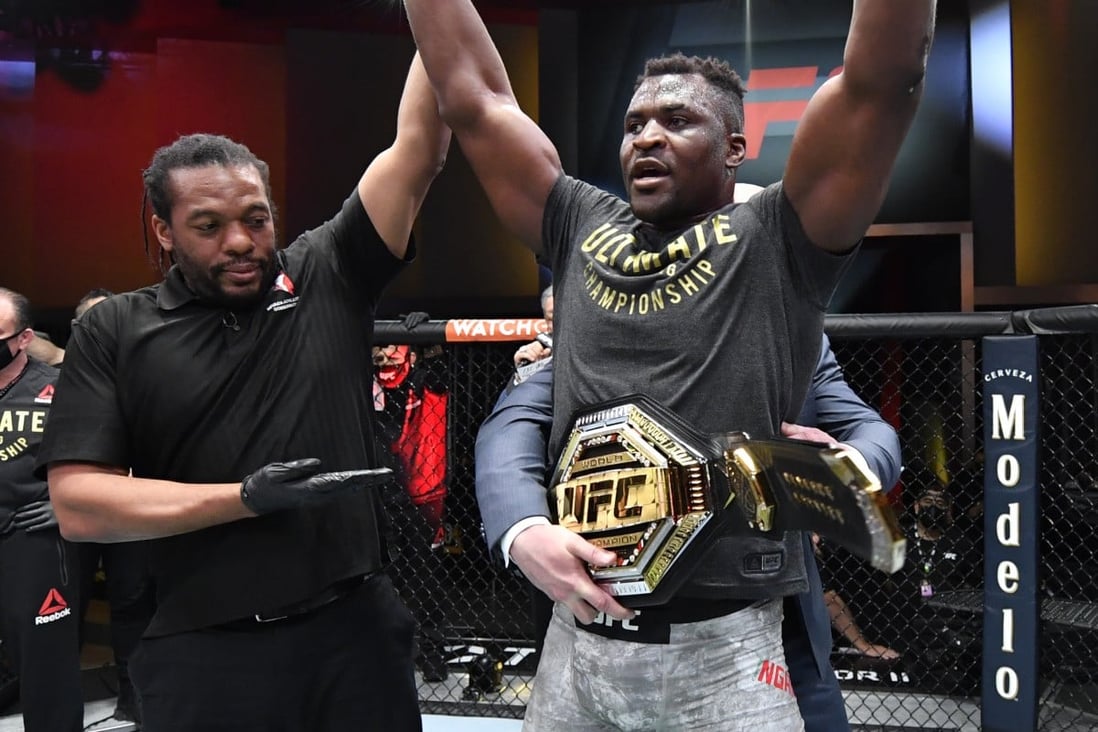 "I've been leaving a lot of money on the table," Ngannou said. "Ever since the Stipe fight. By now, I might be down at least seven million total that I left on the table. I'm still happy with my six hundred thousand because I still fight for what I go for."

Francis Ngannou defeated Stipe Miocic by devastating second-round KO back in March of 2021, at UFC 260. Immediately following the bout, Dana White told MMA media that he would book Francis Ngannou vs Jon Jones immediately if Jones wanted to make the fight.
What ensued after behind the scenes was a contract negotiation between the UFC and Ngannou's management that went awry. When asked, Ngannou said that the money being offered was not enough in exchange for his freedom as an athlete.
"This is the thing, there are two things. Freedom doesn't work with money," Ngannou said. "You give up one for one. Whether you want freedom, whether you want money. You give for one to get to gain one."

When asked if 'wanting to be free,' means not fighting for the UFC anymore, Ngannou replied by stating he felt that both things can be possible.

"You can be free and fight for the UFC, now I just want to be free," Ngannou said.

When asked, Ngannou expressed his specific issues with his current UFC contract for its one-sided and restrictive terms.

"The term of the contract, everything that they put into it, they hold you in captivity," Ngannou said. "You can't do anything, you have no right. The contract is one-sided, although you still don't have anything. You don't even have health insurance, while you're doing this. Putting your body on the line, to provide, to put on the show, risking everything."

"There's a lot of things man, we have no insurance. Nothing, no guarantee. Which, I understand for an independent contractor, but treat me as such then. If I'm going to be an employee or an independent contractor, make it very clear in the contract. It's very mixed up."

Ngannou was asked to clarify his current contract status, stating that his UFC deal is done at the end of 2022, regardless of if he is still UFC champion or not.

"Yeah and that was the case even before this fight," Ngannou said. "I took this fight just to make a point."

Ngannou willing to walk away from UFC as champion
Francis Ngannou was asked by Ariel Helwani if he still wants to fight for the UFC. Ngannou made it clear that the same question should be asked, does the UFC still want Francis Ngannou to fight for them?

When asked to reiterate, Ngannou expressed that there is still a potential for him to fight for the UFC, pending a fair contract. 'If they make things right, yes.' Ngannou said.

When asked if he is willing to walk away from UFC if he feels it is necessary, the African champion was swift in his response.

"I'm willing to do whatever it takes to get what I want," Ngannou said.
Francis Ngannou not bothered by Dana White
After Francis Ngannou defeated Ciryl Gane, UFC president Dana White did not present Ngannou with the championship belt and was nowhere to be seen at the UFC 270 post-fight press conference. When asked, Ngannou said he was unbothered by Dana White deciding not to present him with the belt.

"Oh bro, I don't care about that. What's the difference?" Ngannou said. "I make my point, yeah, they could have even don't bring the belt. I would have been okay with it. Listen, I'm not here to like go after a little thing, this happened, that happened, I'm happy that's all that matters."
Francis Ngannou details distractions ahead of UFC 270
Francis Ngannou detailed numerous instances in the lead-up to UFC 270, where he felt like he was the target of different forms of attempts at distractions.

As Ngannou revealed in the interview with Ariel Helwani, and as early reports are suggesting, the UFC informed Ngannou and his team that he was facing an impending lawsuit from them for his alleged undisclosed negotiations with former UFC CFO, and current manager of boxer Jake Paul, Nakisa Bidarian.

When asked, Ngannou said he felt like this was a part of a campaign meant to distract him from his goal of defeating Ciryl Gane at UFC 270.

"Most of this stuff was all about a strategy to distract me," Ngannou said "They are no fools. They know if Francis is good in his mind, he is a potential danger to everybody out there. Even with the evolution of the MMA, as they said. Francis is a danger for everyone, so they want to take your mind out of it, out of the most important stuff, and distract you with all those things. You're not getting to me with this."

Ngannou also gave details concerning a harassing text message that his manager and agent Marquel Martin received on the morning of January 22nd, before UFC 270. The text message which was from a Las Vegas area code called Martin a 'black bitch' and referenced his former job as a stylist. Martin posted the text to his Instagram account.

When asked for his thoughts on the harassing messages, Ngannou said he felt like it meant they were doing something right.

"I think somebody is very pissed off, which means we have been doing the right thing," Ngannou said.
Francis Ngannou could be stripped of UFC championship
With Ngannou having suffered a potential career altering injury, it is more than likely that the UFC champion will be faced with the reality of having to undergo surgery, and a lengthy rehab stint. When asked if he feels surgery is needed, Ngannou expressed it to be a certainty.

"I'm going to see a doctor today, to clarify that," Ngannou said. "They say my MCL can be reattached on it's own basically, after this stem cell, but my ACL would definitely need a surgery. So, yeah I do need a surgery, that's for sure."

Ngannou was asked if in a hypothetical situation where a UFC contract could be a negotiated, and a successful return from surgery was possible, if he was willing to fight again before the end of 2022.

"Probably, it's possible, I can't tell," Ngannou said. "You know, in the past three years. I've been fighting once a year, even though I wanted to fight more. So, I can't really tell about that. I have no control in that."

Ngannou was onced again asked if he was willing to sit out of the remainder of the year to get out of his current UFC contract. Ngannou replied with certainty, that he no longer owes the UFC anything.

"Yeah, I think my due is paid. Fully paid, yes or overpaid." Ngannou said. "I've paid my due, whatever was in this contract I pay it, I paid them a lot by miles away."

With all of these circumstances coming to head, it is a very real scenario for the UFC to strip Francis Ngannou of his UFC championship, with him leaving the company as the best heavyweight fighter on earth. When asked if he was worried about the UFC stripping him of his title, Ngannou was unfazed.

"No, I'm not worried about that, because at the end of the day, it's just a belt." Ngannou said. "You know and as soon as they take the belt away, i'm a free agent."
Francis Ngannou vs Tyson Fury, a very real possibility
Should this be the end of Francis Ngannou's UFC career. The man who fought his way from the from the Batié sandmines, ended his UFC career on a everlasting high note, a 12-2 UFC record, which included going a perfect 4-0 when the betting odds were against him.

With this, the only question that remains for the champion is what's next? With all of the variables at play, even the bookies are unwilling to put out odds on the prop 'Who will Francis Ngannou fight next?'
The potential for a boxing bout with Tyson Fury has been looming for years, and with the possibility of Ngannou becoming a free agent in little over a year, the possibly is more real now than ever before. When asked, Ngannou said that the Fury fight would be a great opportunity for himself and the UFC.

"Oh yeah, listen, Tyson Fury and I, we have been going back and forth for over two years now. I do believe that this fight will happen. We thought this would be something that the UFC can make it big, because this is an option, that is an opportunity that I have and they they could get involved and make it happen."
Based on the current betting odds, Tyson Fury would be lined as a -2500 betting favorite over the UFC champion Francis Ngannou in a boxing bout. Whether or not the UFC gets involved in Ngannou's endeavor of a cross-over boxing super fight with lineal heavyweight champion Tyson Fury remains to be seen.

One thing, however, is for certain. The African heavyweight champion of the world has now solidified himself a space on the same pedestal as some of the greatest fighters in MMA and combat sports history. What's next, is anyone's guess.

In Solidarity
---
For all the latest Combat Sports Odds and News, keep it locked to CombatOdds.ca